10 Must-Try Korean Hairstyles For Men In 2023 | GATSBY
Ready for a hair makeover? Get ready for some awesome hair inspo as we dive into the world of trendy Korean hairstyles for men in 2023.
From ENHYPEN to TXT, K-pop frenzy is still going strong. Plus, addictive K-dramas continue to light up our screens. And what do chart-topping K-pop idols and K-drama heartthrobs have in common? Some seriously enviable hairstyles!
Koreans continue to explore new frontiers in hair fashion, influencing what's hot on the streets. Whether you're looking for a hairstyle that's sleek and sophisticated or edgy and bold, there's an amazing Korean hairstyle that's just right for you. Scroll down for the 10 must-try Korean hairstyles for men in 2023. Let's get into these epic looks now!
Latest Developments In Korean Hairstyles For Men
Korean men hairstyles have evolved in 2023. Gone are the days of the "pretty boy" look. Instead, we see K-cuts borrowing Western elements and other inspiration from around the globe - it's all about embracing diversity these days! The result: trend-setting K-cuts with a more experimental vibe. If you're looking to rock a unique aesthetic, you've come to the right place!
The Best Korean Hairstyles, By Length
Short Korean Hairstyles
Permed French Crop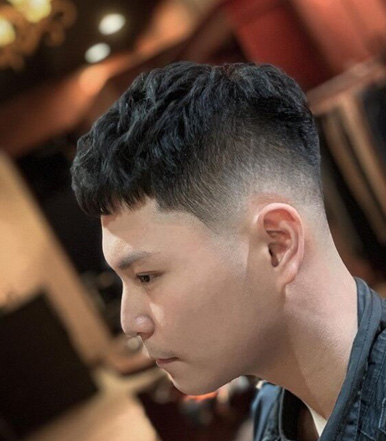 The French Crop has always been a popular hairstyle in Korea. For a trendy twist, top it off with a perm! Whether you prefer tight curls or softer waves, the perm offers a unique contrast to the short sides and back. This makes the Permed French Crop a great choice for those who want to stand out from the crowd. Don't forget to use a hair wax with strong holding power and matte finish to maintain the perm's volume and texture.
Buzz Cut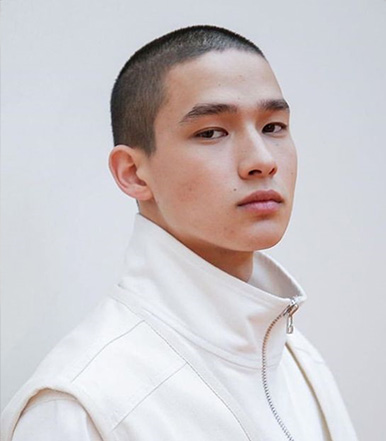 The Buzz Cut is blowing up among fashion-forward individuals in Korea. And if recently enlisted K-pop idols like MONSTA X's Minhyuk and BTS' Jin can rock this look, so can you! Are you a chill and low-maintenance kind of guy? Then grab those clippers and shave away. Super short and even hair is definitely in!
Medium Length Korean Hairstyles
The Jackson Wang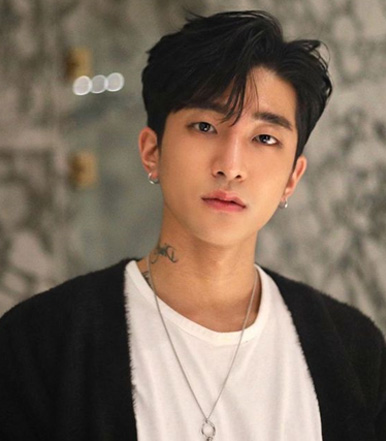 If you're looking to unleash your inner idol, then check out The Jackson Wang! This multi-talented GOT7 member has been going viral on TikTok for his #swoonworthy locks. To nail his eye-catching hairstyle, you'll need some hair tools and a high-quality hair product on standby.
The starting point for The Jackson Wang is a two block haircut. Create a side part with a comb. Next, use a hairdryer on high heat and a round brush to blow your hair towards the sides. A hair iron is the best tool to get this look's signature flick out movement. Finish the look by using a product like gatsby THE DESIGNER Aero Up Wax. This ultimate style secret will add that texture, lift and body to your hair, keeping this hairstyle on point and in place all day long.
The 60-40 Quiff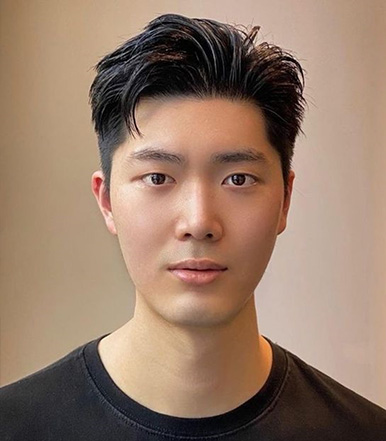 For a suave hairstyle that exudes an air of sophistication, go for the 60-40 Quiff. In this version, 60% of the hair is swept to one side and the remaining 40% to the other side. The quiff's unmistakable appeal is the voluminous swept-up look. Here's our tip to nail it: using your fingers, work a hard wax through your hair and lift from the roots to get that extra height!
Center Parting Bowl Cut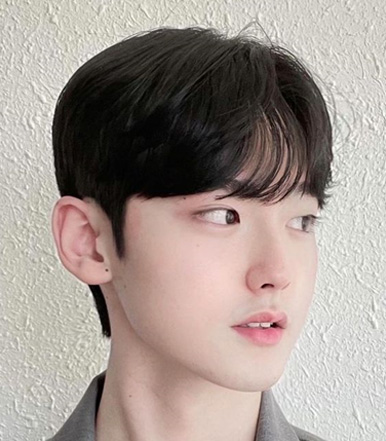 With its youthful vibe, the bowl cut continues to be a popular choice in Korea. The latest spin to this style is to wear it in a center part. Ask your barber to cut your hair in a straight line around the head, resembling a bowl shape. Then part the fringe at the center into two equal sections. Use a wax with a natural and relaxed finishing to keep your center part in place.
Textured Undercut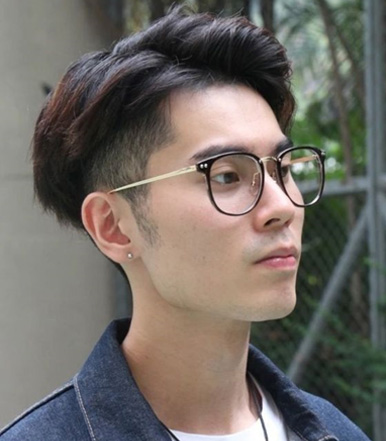 The Textured Undercut ticks all these boxes: messy, carefree, effortless chic. If you want to level up your cool, this is your go-to hairstyle! With its chic combination of shorter sides and longer top, this is definitely an attention-grabbing hairstyle. Tip: when you're at the salon, make sure to ask for lots of texture at the top.
Slick Back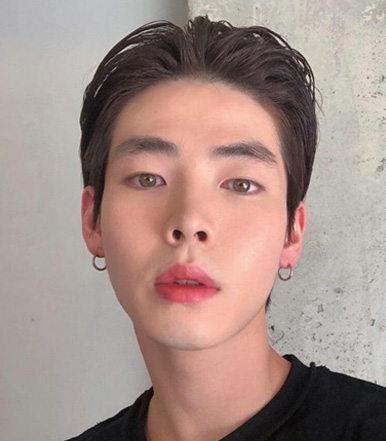 The Slick Back is easy to carry off when you have medium length hair. The neatly combed back hair gives off a polished and refined appearance. A strong-hold pomade will give your hair the staying power, as well as sleek and shiny finish it needs, so you can slay this look with confidence from morning till night!
Long Korean Hairstyles
Wolf Cut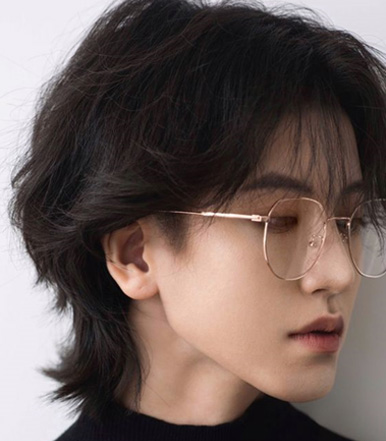 BTS' golden maknae Jungkook has recently debuted the Wolf Cut and we're here for it!
The Wolf Cut is one of the trendiest looks to hit the Korean "hairwaves" in 2023. It may look like a mullet at first glance, but it's a whole different beast. Exuding an edgy and wild vibe, this part-shaggy, part-mullet style is the top choice for those looking for something bold and badass. Once you've grown your hair out, get our barber to give you lots of choppy layers. Wear it messy and tousled or style it sleek and smooth. It's totally up to you!
Curtain Hair
Made popular by K-pop idols, the Curtain Hair trend is still going strong. This chic look is perfect for those with long and slightly wavy hair. To achieve a sleek yet gentle center part, turn to a combination gel-wax product which offers a light hold and natural-looking finish.
Wavy Perm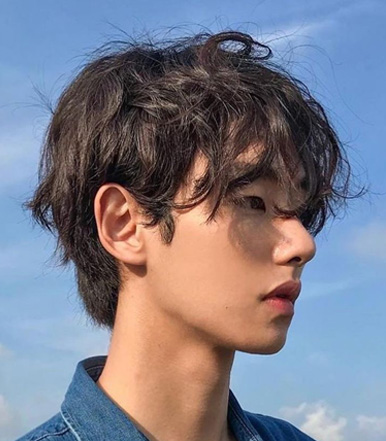 The long Wavy Perm is the quintessential laid-back oppa hairstyle. Natural-looking, relaxed waves are the key to this look. To achieve this look with flair, start with a full mane of layers before perming them. Apply a hairstyling wax with a mattified feel to keep the texture of your perm in place.
Conclusion
2023 is indeed turning out to be another exciting year for Korean men hairstyles. When it comes to setting trends, Koreans have undoubtedly earned their reputation for pushing boundaries and inspiring others to embrace creative hairstyles. From the dramatic appeal of the Wolf Cut to the suave Jackson Wang, there's plenty of Korean hairstyles to choose from to express your unique personality. Hop on the K-wave now!