Mullet Hairstyles: Embrace Individuality & Self-Expression
The mullet hairstyle, an iconic trend of the 70s and 80s, is a true testament to the daring and bold nature of the era. With its signature "business in the front and party in the back" look, this hairstyle was a favorite among music legends like Billy Ray Cyrus, David Bowie, and Paul Young. Short hair on the top and sides, combined with long locks in the back, created a unique and unforgettable style ranging from modest to daring.
Ready to rock a modern mullet? Keep reading for our top styling product picks and tips on tailoring the length to your personal style and career.
Types of Mullet Hairstyles for Men and How To Style Them
Nowadays, mullet hairstyles have evolved to become more textured and customizable. There is a lot of room for personalization, and the modern mullet is highly blended. However, classic mullets are still an option, and they are more conservative and suitable for professional settings. Although they don't offer as much variety, they have a guaranteed good look, perfect for those who prefer a more subdued style.
Mullet Styles
Classic Mullet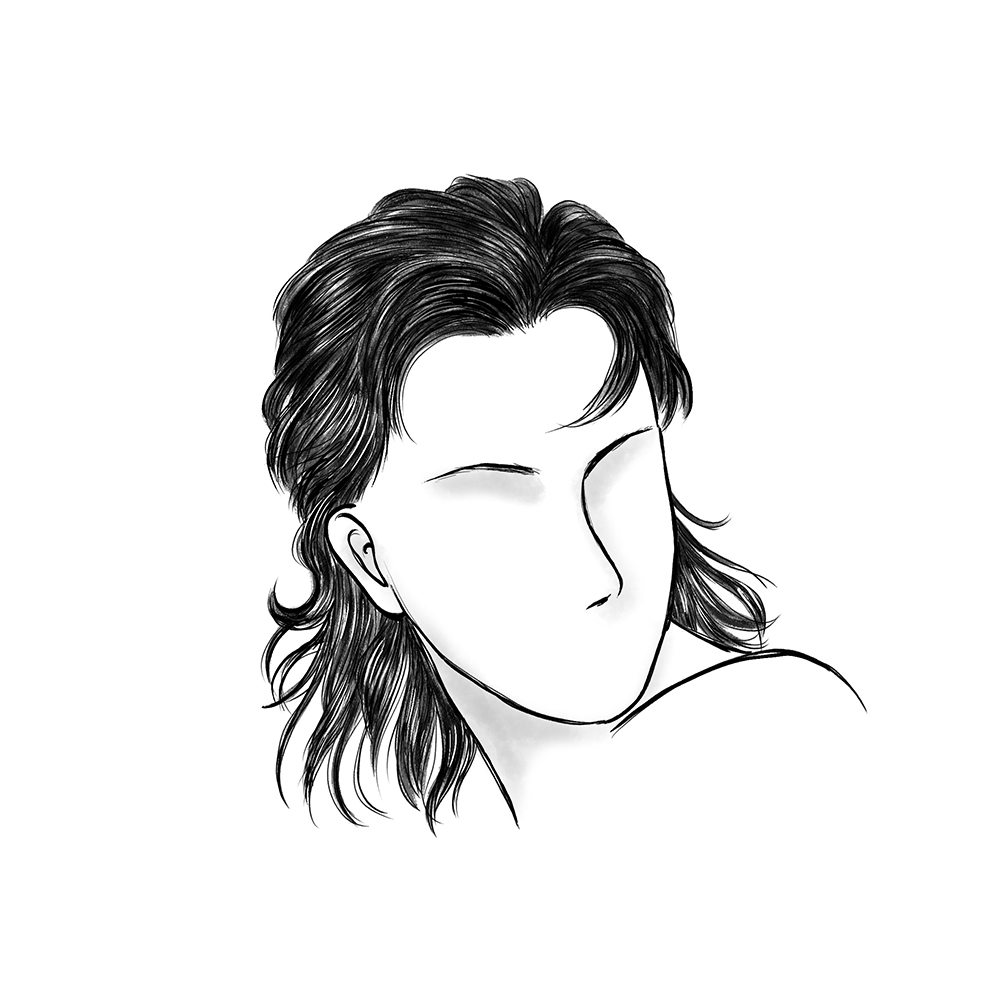 The iconic mullet hairstyle has been a staple in pop culture for decades, known for its daring asymmetrical shape that screams rockstar vibes. The voluminous, layered top is perfect for those who love experimenting with different styling products, while the slightly longer back adds a classic and modern edge. It's no wonder that the mullet is still turning heads today, as it remains a timeless and bold statement in fashion.
Modern Mullet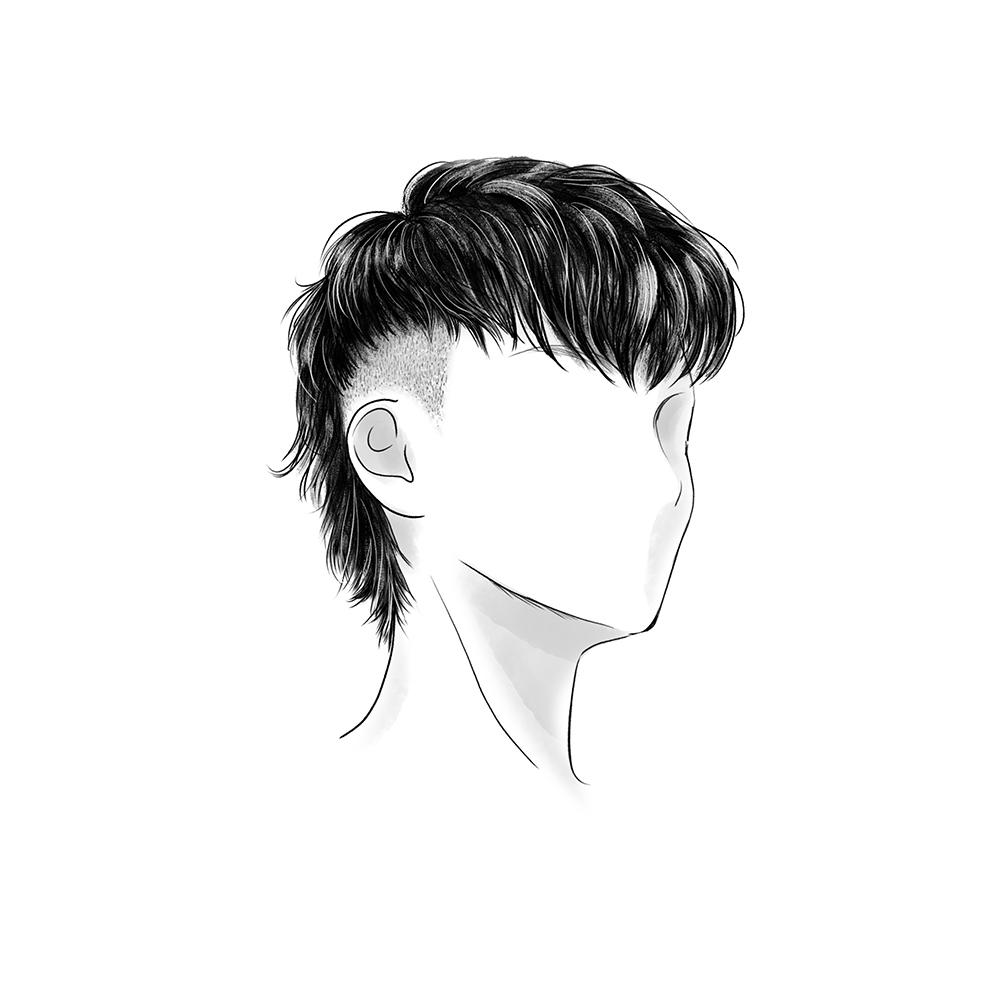 Modern mullets are updated versions of the classic styles we know and love. Modern mullets are easy to personalize and can be changed to suit your unique style and career. They contain the traditional shorter sides and top and long backs but can also be curly, wavy, or worked into styles that include fades and other cool trends.
Length-Based Mullets
Short Mullet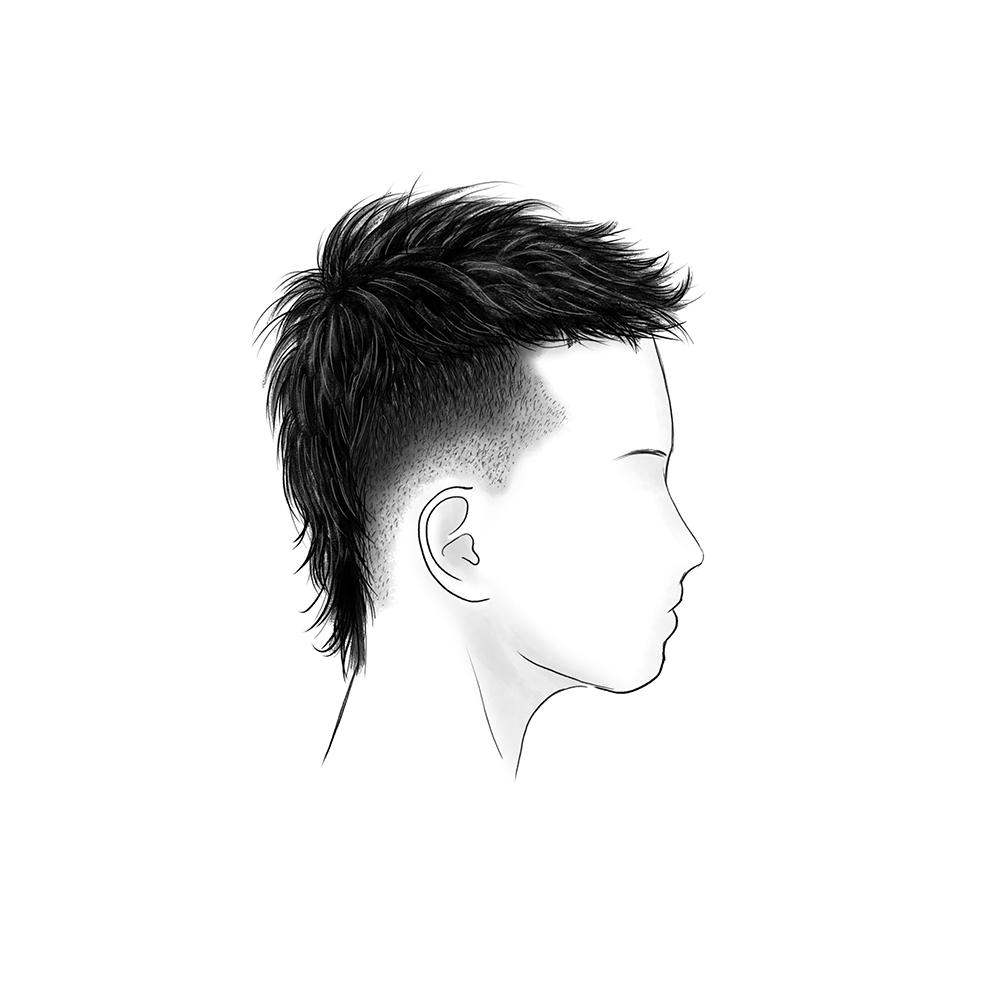 The short mullet is an extra-short version of the classic mullet, making it suitable for men who want a low-maintenance cut and not too crazy for the office. The sides are very short and can be almost shaved, while the top and back of the hair are left untouched or just slightly trimmed for neatness.
Medium Mullet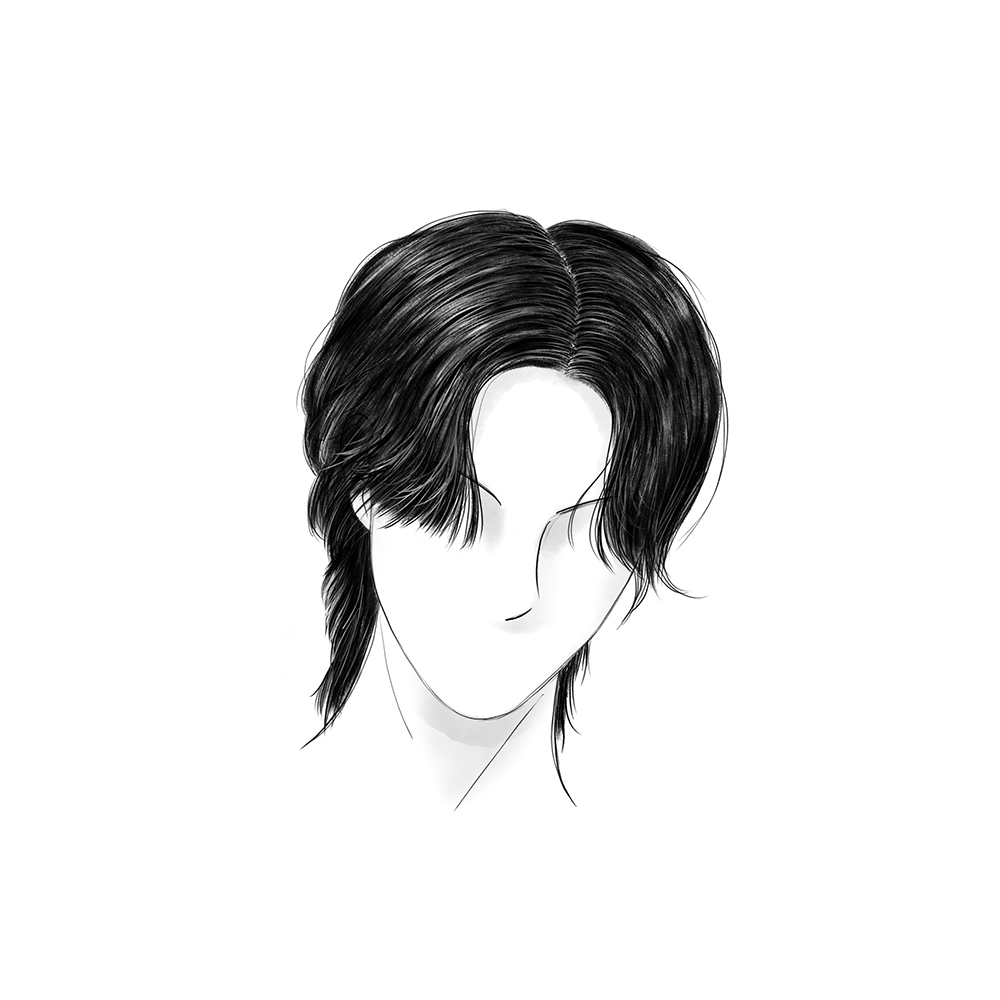 Medium mullet hairstyles are categorized by the hair at the back of the head being medium length. The additional length gives this hairstyle an air of intrigue and movement while keeping it classy and appropriate for corporate settings. This style is perfect for achieving a clean and neutral coolness inspired by the fashion of K-pop.
Long Mullet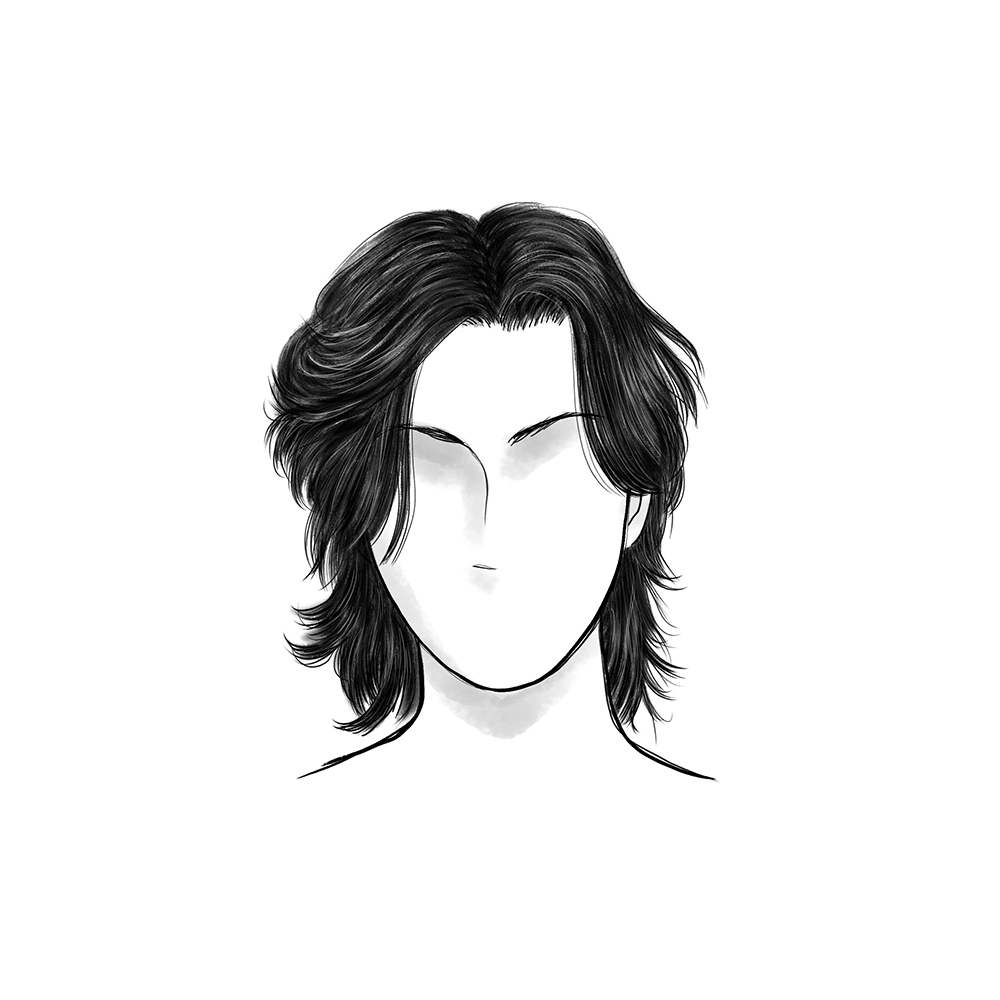 The long mullet is a hairstyle that makes the wearer the center of attention — and that's great! This mullet style is as unique as those who wear it and will have the entire room asking questions. The back of the mullet is very long, often falling onto or past the shoulders. The top and sides of the mullet are shorter than the back but are still long enough to be slicked or brushed backward.
Texture-Based Styles
Curly Mullet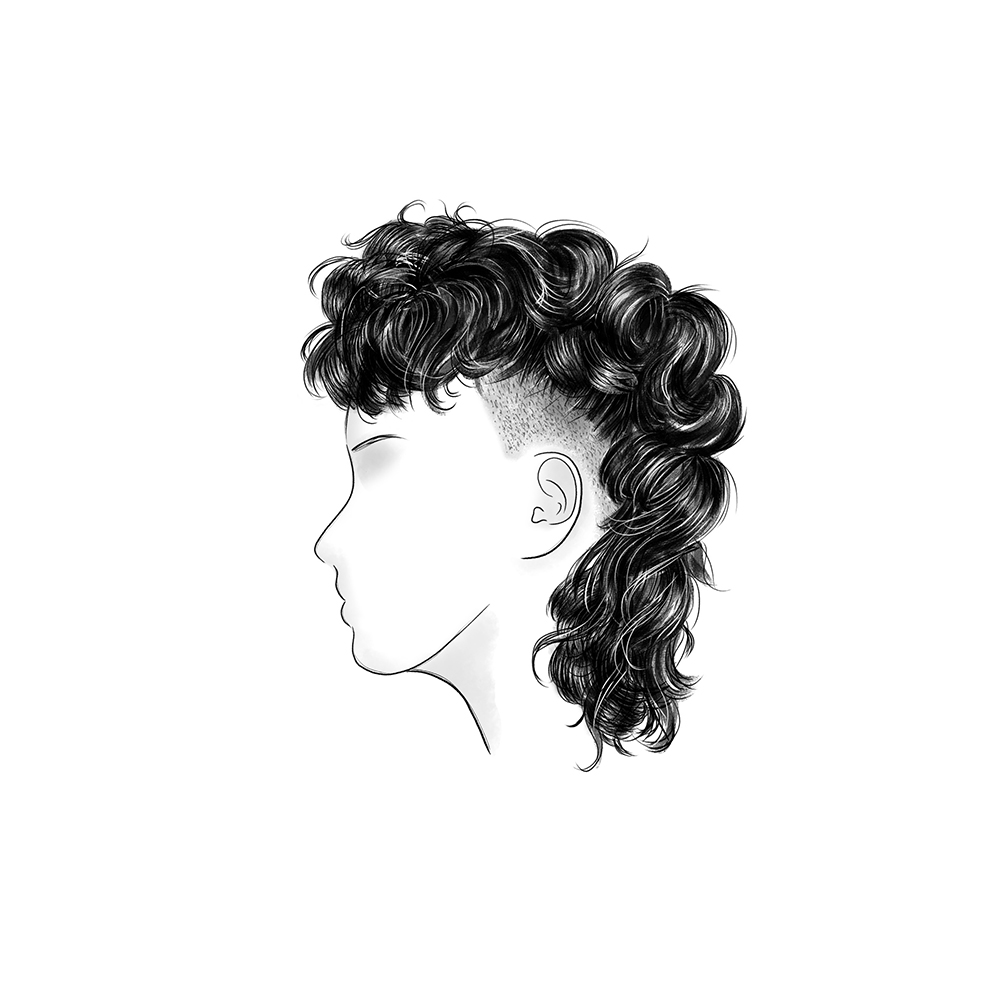 Men with naturally curly hair can rock the curly mullet without much effort. As suggested by its name, the curly mullet uses curly hair, so those with natural curls don't have to fuss with their mullets in the morning. Texture and volume are key for curly mullets to look good. Men with naturally straight hair who want to rock this look can still achieve it using some product and a bit of daily styling.
Wavy Mullet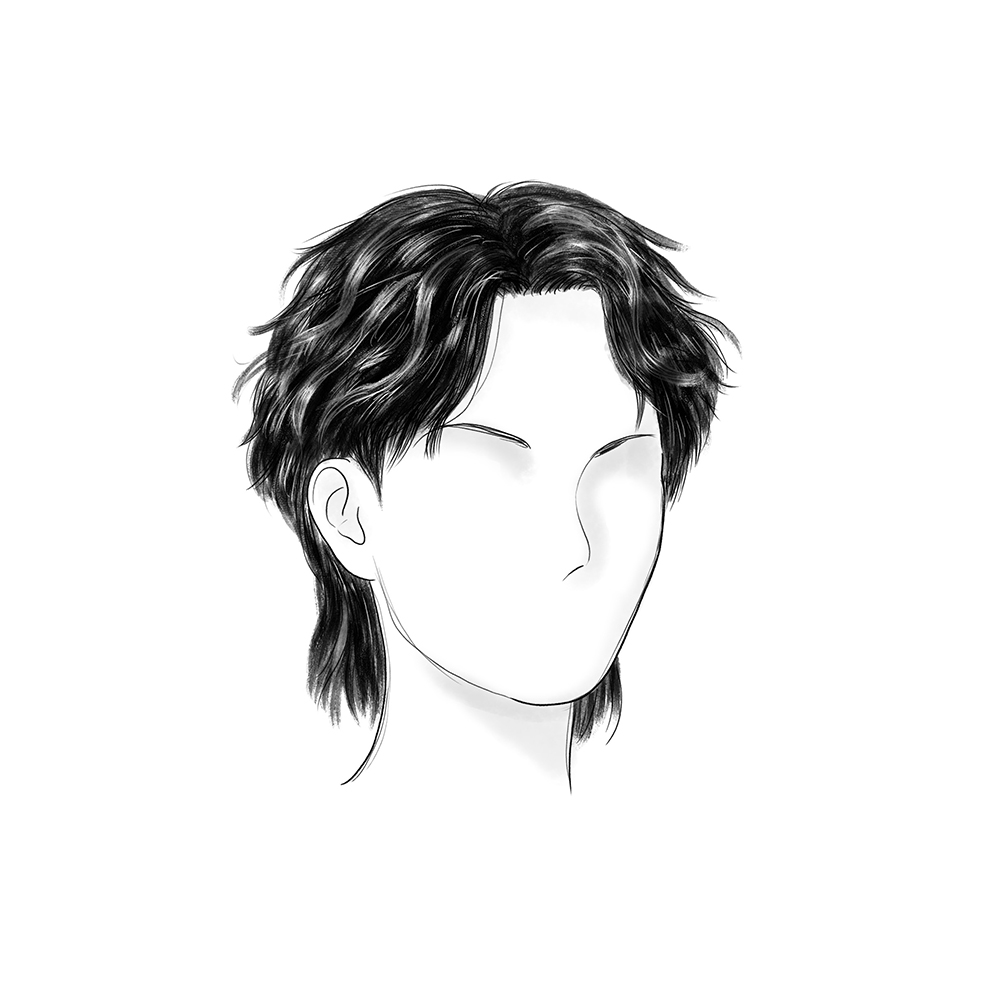 The wavy mullet uses the natural or heat-styled texture of wavy hair to add interest and gentle movement to the hairstyle. It can have a slight wave or be wavy enough to become close to a curly mullet. There is truly much room for variation in terms of texture with this fun mullet modification.
It's a curtain hairstyle modification with a relaxed, genderless appeal that pairs perfectly with the style of K-POP. Take the curtain look further by growing out the hair at the nape of your neck. It's a fashion challenge worth undertaking!
Shaggy Mullet
The shaggy mullet is a heavily layered, animated version of the classic. It was trendy in the 70s, alongside the traditional mullet, and has started to come back with the expansion of rock music and grunge subcultures worldwide. This style offers medium to long lengths and can be straight, curly, or wavy — anything goes as long as it features multiple layers and an overall shaggy appearance.
Fade Styles
Faded Mullet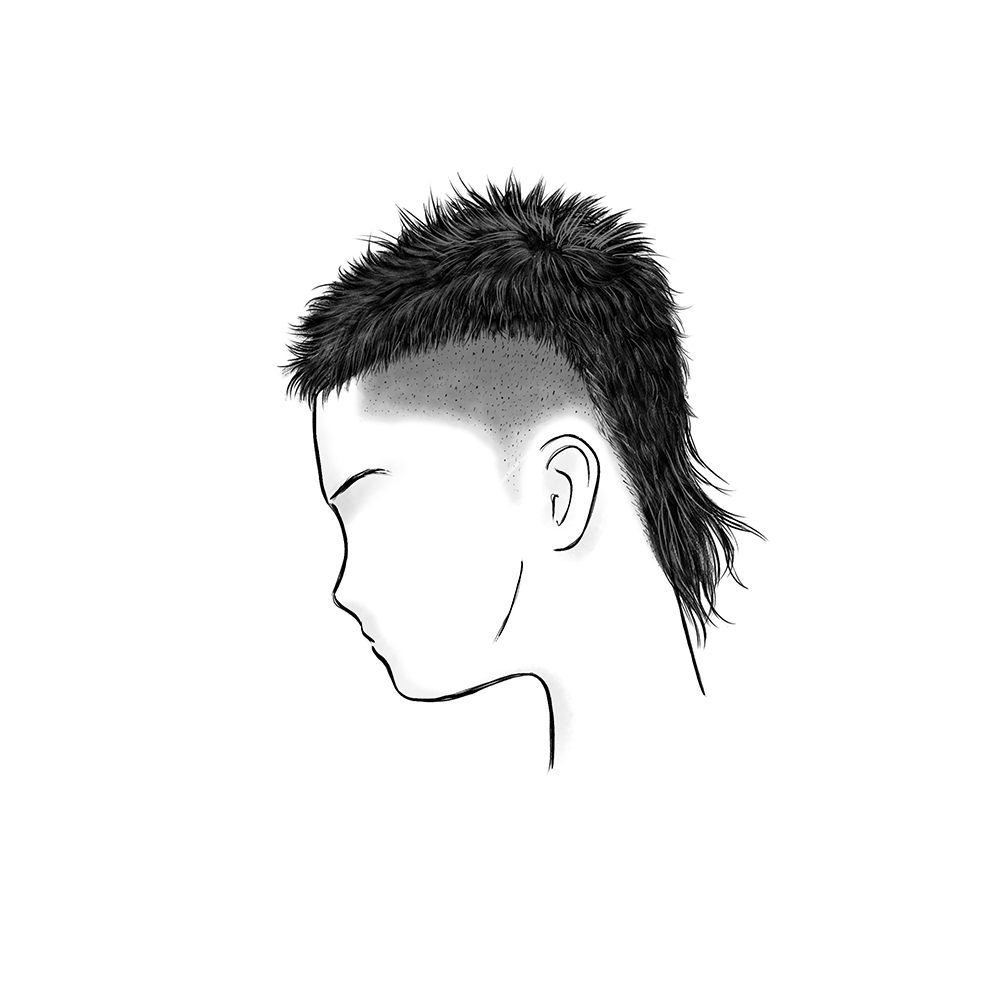 The faded mullet is a variation of the modern mullet. The faded mullet gets shorter towards the bottom of the cut, with the top being the longest part of the style and the sides being the shortest. Typically, the sides of this mullet don't get so short that they look shaved, but they do get very short, effectively "fading."
Burst Fade Mullet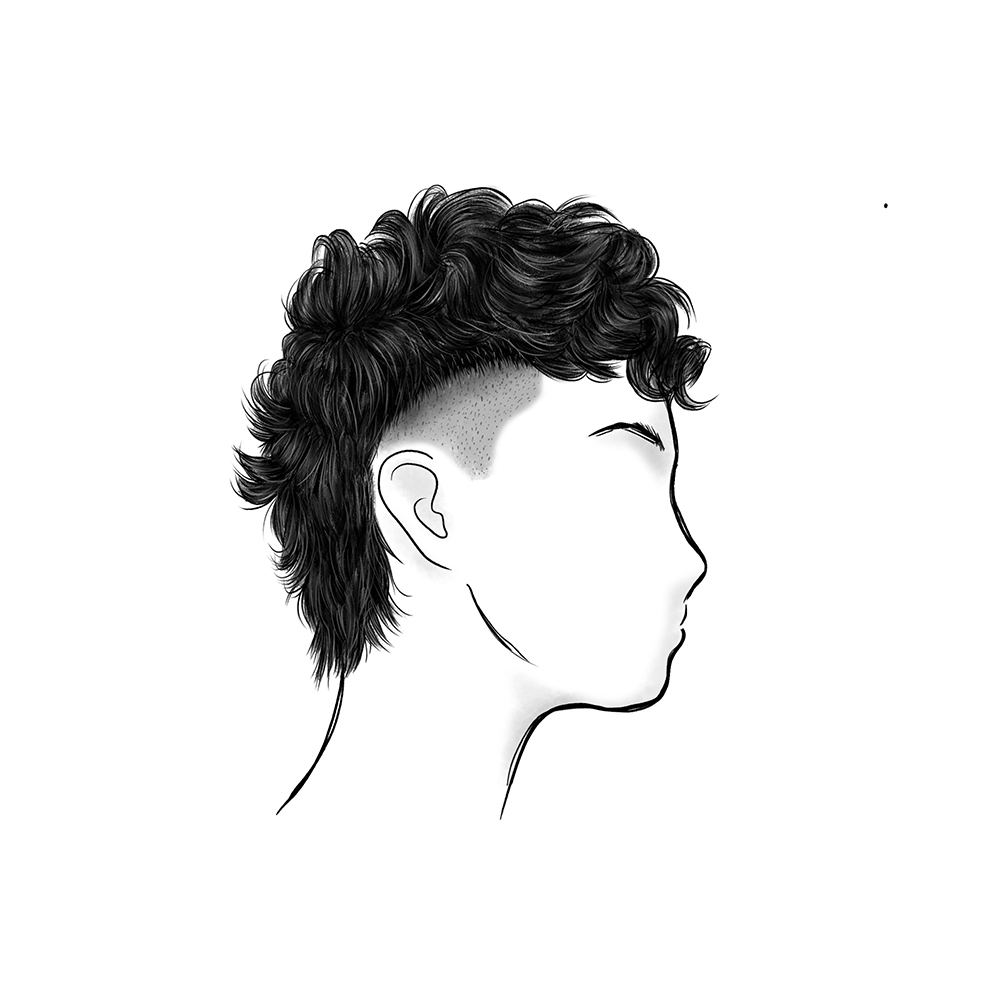 Burst fade mullets are a unique type of fade mullet that demands attention and compliments. Unlike the original fade mullets that slowly fade the hair from long to short, burst fade mullets do this much more quickly and dramatically. This quick transition can leave the style with sharp edges and lines that catch the eye. It's exciting to see athletes taking notice of it and the buzz around it is definitely growing.
Unique Styles
Center Part Mullet/Curtain Mullet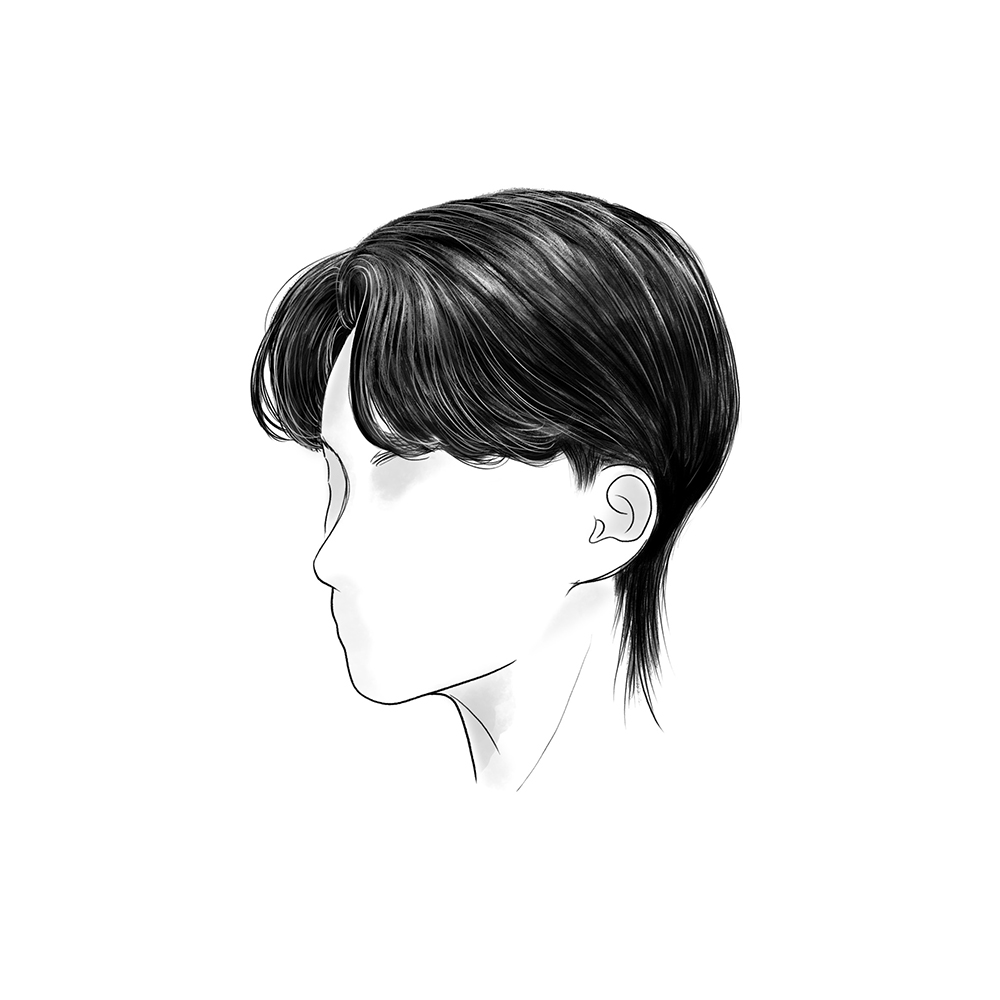 Sometimes known as the "leaf cut," (a popular Korean style featuring center-parted fringe swept-back in the shape of a leaf) the center part mullet or the curtain mullet tends to stand out less than many other variations. This variation is relaxed and casual compared to others, such as the burst fade or the distinctive long mullet. The sides and top of the mullet are short to medium in length, while the back is longer, as expected. This mullet features a unique center part at the front of the style, giving it the name "curtain mullet."
Mohawk Mullet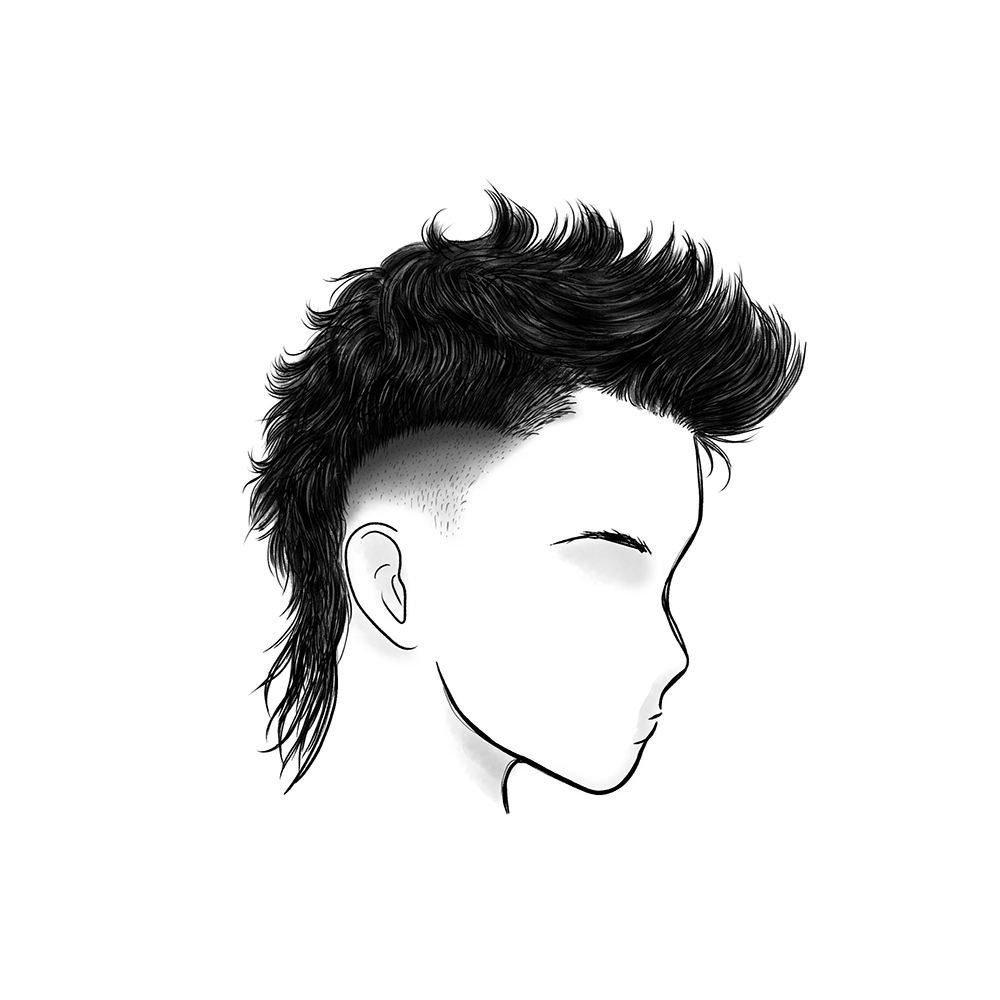 This trendy and laid-back mullet haircut is a fresh spin on the classic look that's both adaptable and effortless. It's the perfect match for any attire, whether you're a working professional or a student. You can rock a tidy and trimmed version or let it grow out and style it with some fun products like mousse and gel.
Spiky Mullet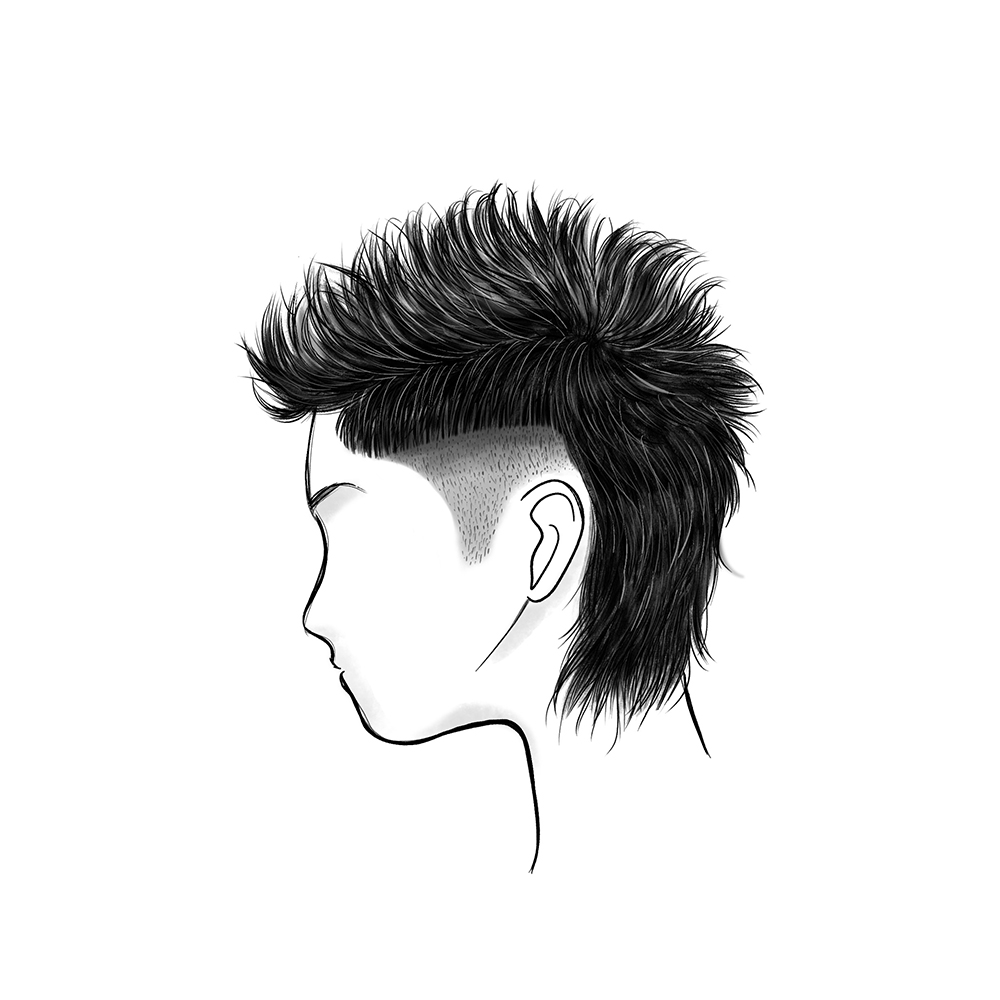 Achieving a stylish mullet spiked to perfection requires time, effort, and a bit of hair product. This mullet style features medium-length layers and can be spiked using a firm gel. Rub the product onto your hands and hair to achieve the desired look and unleash your inner rebel; the spikes will stand tall all day!
How To Style A Mullet
Contrary to popular belief, styling a mullet is a simple task. It is essential to have specific hair care tools and products to care for and maintain your mullet. These tools and products help you style and keep your hair in place effortlessly.
To keep your mullet looking great, make sure you have a comb, a brush you like, and a hair dryer with a diffuser attachment that won't harm your hair.
If you have a mullet, some great products on the market can make styling easier and more enjoyable. To enhance the effectiveness of your comb, hair dryer, and brush, you may want to purchase light-to-medium-hold gel, mousse, or curl cream if you have naturally curly or wavy hair. On days when your hair is misbehaving, using hairspray can be helpful. For those with straight or thin hair, a sea salt texture spray can give the appearance of fuller hair and enhance the look of your mullet.
The Mullet Revolution
2021 saw a hair revolution in the pop culture industry commonly called the "mullet revolution." This movement involved the comeback of the classic 70s and 80s hairstyle, the mullet. The mullet was mostly popular among men during its debut in the 70s. Nowadays, more and more women are adopting this iconic look, too.
While it started with famous singers like David Bowie and Paul Young, the recent comeback of the mullet has now flooded the scene, with popular celebrities like Miley Cyrus, Rhianna, and Maisie Williams adopting the trend. In addition, stars representing subsets of today's culture, such as Troye Sivan and Tegan and Sara, who symbolize the LGBTQIA movement, have been loving the look, too.
Since the world is moving in a progressive direction focusing on self-expression and personal identity, it's easy to imagine that the mullet will become an everyday look within the next few years. By 2025, the mullet may be one of the most popular hairstyles for both men and women.
Conclusion
Finding the perfect mullet hairstyle can be tricky, but with the help of your trusted stylist and some research, you can find the one that suits you best. This list of modern mullets can assist you in choosing between short and long, straight or curly, and traditional or unique options.
Interested in expanding your style options? See what's trending this year for more awesome men's hairstyles.