The Guide To Wolf Cut Hairstyles For Men 2023 | GATSBY
Have you caught the Wolf Cut fever yet? This Gen-Z approved, 90s-inspired edgy hairstyle is having its moment in the limelight. The half-mullet, half-shaggy haircut boasts some serious rocker vibes.
We like to think of the Wolf Cut as the perfect hairstyle for a new era, especially for those of you who've grown out your hair and are thinking of switching up your look.
Here, we'll dive into why the Wolf Cut is such a unique hairstyle. Plus, we'll give you the lowdown on all the various Wolf Cut hairstyles you can try. Keep scrolling!
Origins Of The Wolf Cut
The Wolf Cut's signature choppy layers are a nod to the 1990s. This look has taken off in a big way since DIY haircuts were all the rage during the pandemic.
Ignited by the Koreans, the Wolf Cut trend has set TikTok ablaze and become one of the most popular men hairstyles of 2023. Spotted on multiple K-pop idols from BTS' Jungkook to Stray Kids' Hyunjin to TXT's Beomgyu, this hairstyle has also taken the Western world of pop by storm
Difference Between A Wolf Cut And A Mullet
Is a Wolf Cut the same as the Mullet? No, but it's way edgier. Think of it as a hybrid between the Mullet and the Shag Cut.
Inspired by the Mullet, the Wolf Cut is heavily layered with short, choppy layers on top and longer, layers around the sides and back, ending just past the nape. The Wolf Cut also borrows its softer, shaggy elements from the Shag Cut. With its all-round messy and effortless vibe, the Wolf Cut is definitely more wearable.
Do You Suit A Wolf Cut?
While the Wolf Cut is a bold look that can work for almost anyone, those with thick or wavy locks will have that extra oomph to nail it. After all, the Wolf Cut is all about layers and volume.
For you to rock this style, the most important thing you'll need is …. attitude! If you think you have the rizz to pull off a Wolf Cut, then go for it!
7 Trendy Wolf Cut Hairstyles
For all you fans of the Wolf Cut's aesthetic, we've got you covered with 7 of the trendiest Wolf Cut hairstyles to try. Get ready to embrace this rockstar image now!
Center Parting Wolf Cut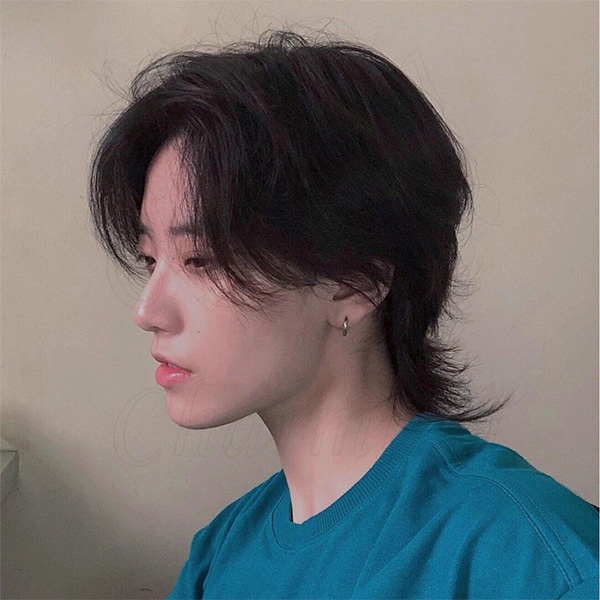 The classic version of the Wolf Cut has short, choppy bangs. But to wear a Center Parting Wolf Cut, you'll need a longer fringe. Upgrade your look by using a wax with a soft finish to get the lift you need for that center part fringe.
Permed or Curly Wolf Cut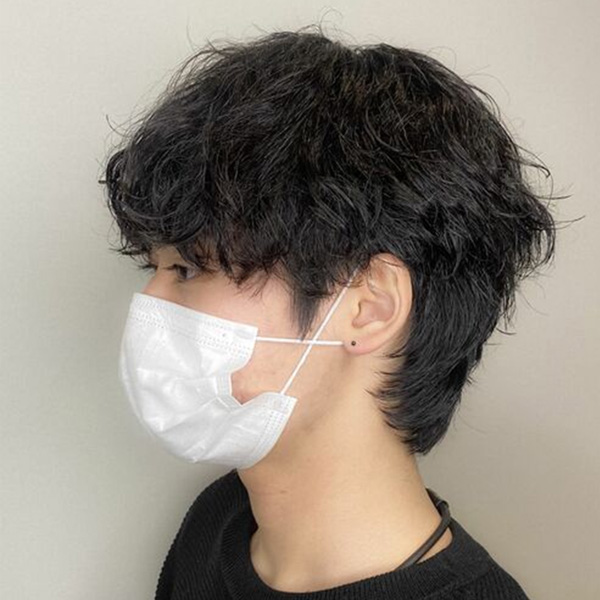 For a very rock n' roll vibe, go for a Permed or Curly Wolf Cut. Bouncy curls will give you lots of body and movement. If you're blessed with natural curls, you're the perfect candidate for this cut. Otherwise, you'll need a perm to get those loose ringlets.
Wavy Wolf Cut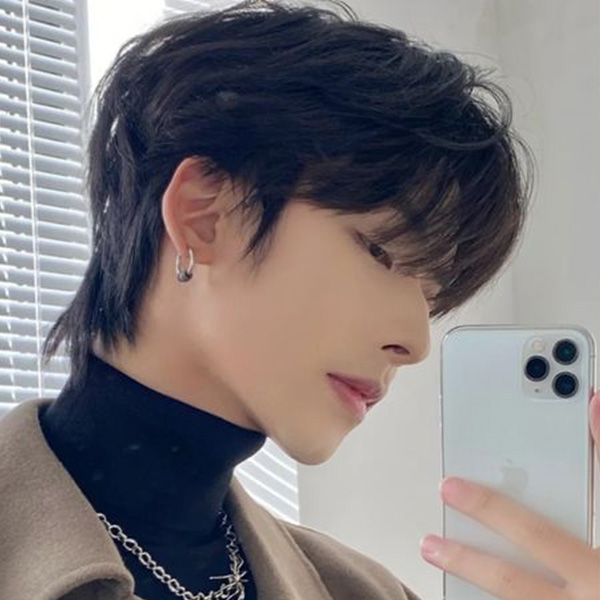 If you're a super chill kind of guy, , you'll love the messy, textured appearance of the Wavy Wolf Cut. Heavy layering is the key to nail this disheveled look. The beauty of this style? It works with any hair texture and is low on maintenance.
Bowl Wolf Cut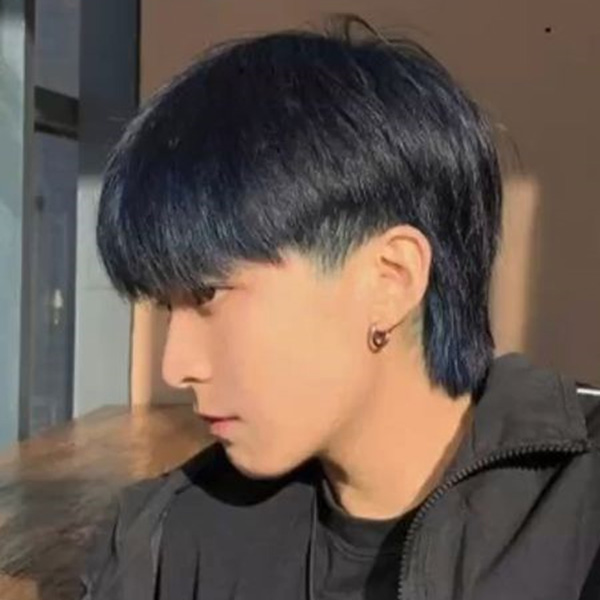 K-pop stans will definitely recognise the Bowl Wolf Cut. Seen on multiple K-pop idols, the bowl-like shape and wispy layers of this style exude a very fun and youthful vibe. Apply just a tiny amount of hair wax to get the airy and light finish you need for this look.
S-Shaped Wolf Cut
An S-Shaped Wolf Cut features longer layers cut "in a feathered style. This creates a wavy S-shaped pattern that adds volume and movement to your hair. This is a cut you can try if you already have naturally wavy hair to begin with.
Buzzed Sides Wolf Cut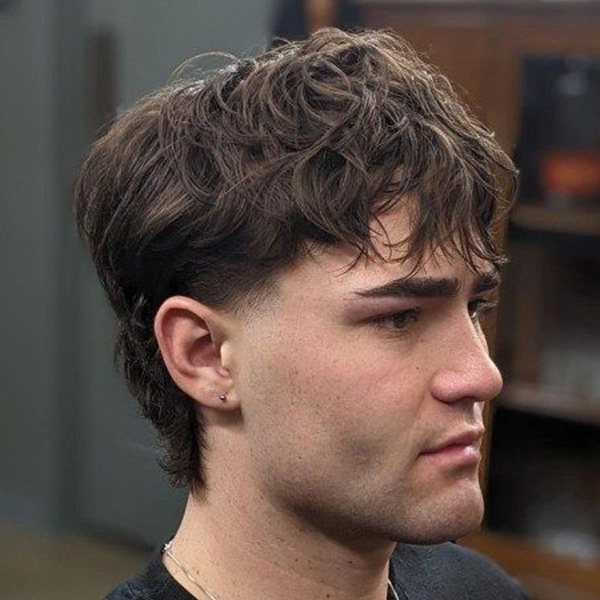 Bored with your current look? Then go for the Buzzed Sides Wolf Cut. The contrast between the short, buzzed sides and those choppy layers on top will definitely make you stand out from the crowd.
Coloured Wolf Cut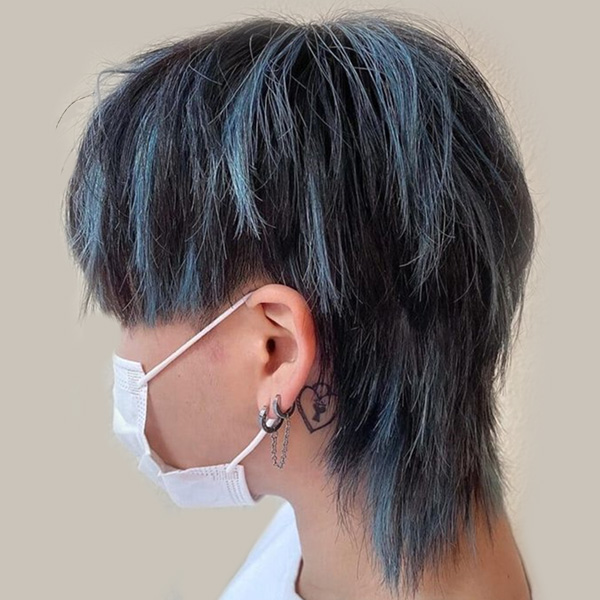 A Coloured Wolf Cut is a great way to inject some fun and vibrance to your hair. Whether you're going for a bright pop of colour or something more subtle, this will give your look an extra edge.
How To Instruct Your Barber To Get Your Wolf Cut
While you can certainly attempt to DIY your Wolf Cut, it's always good to leave it to the pros. Tip: bring along some pictures to show your barber so he'll have a better idea of the style you're looking for.
There are many ways to style a wolf cut, so be specific. These are the features that matter:
Length: Let your barber know how long or short you want the layers and overall length to be.
Texture: Decide whether you want a wavy, curly or relaxed texture and whether you prefer choppy or wispy layers.
Fringe: Indicate your preferred length and shape of your fringe. A classic wolf cut has shorter bangs, but if you're going for a center part, you'll need a longer fringe.
Be open to your barber's advice too. As your hair BFF, he'll know best when it comes to whether this style suits your hair type and face shape.
Conclusion
We like to call the Wolf Cut the three As - adventurous, attention-grabbing and avant-garde. This style has become a sensation, and for good reason. So if you're ready to spice things up, let your personality shine through with the Wolf Cut!