The Quick Guide to Bleaching Hair at Home And Cool Bleached Hairstyles to Try Out
If you've been sporting the same look for a while, it may be time for a change. Bleaching your hair can be a bold way to switch up your look.
From colouring your hair out of a box to getting it professionally done at a salon, there are a variety of ways get some hair colouring fun. If you're considering the DIY route, you can still nail the perfectly-bleached look by following instructions carefully.
The Rising Trend of DIY Hair Bleach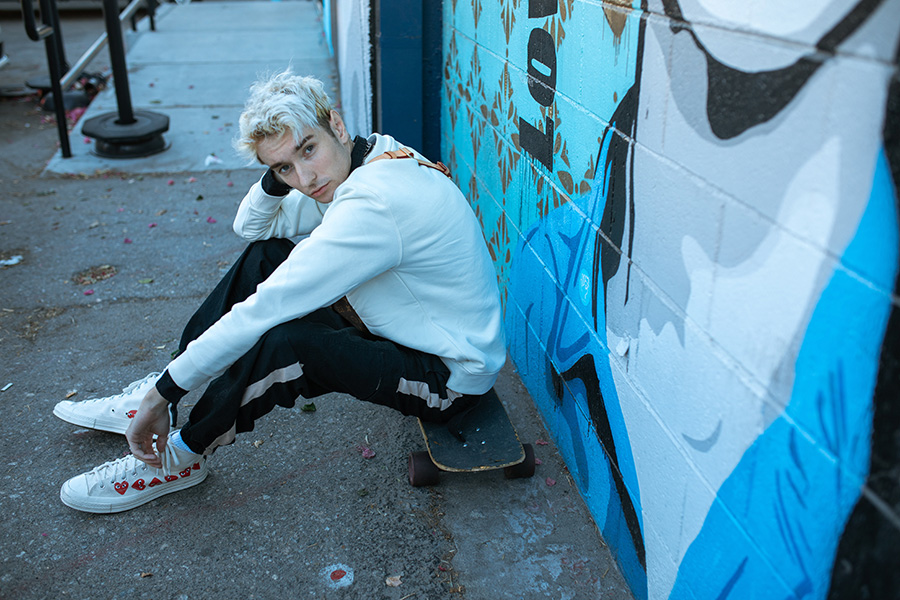 Hair bleaching has been trending and ruling the "hairwaves" since way before 2021. After all, what better way to reinvent yourself than by breaking out of the colour rut! From Justin Bieber's platinum blonde locks to the funky hair tones of BTS band members, embracing adventurous hair colours will instantly give you a dramatic makeover.
How can you bleach hair at home? With many off-the-shelf options, it's now very convenient for men to change up their style and look. Blonde, platinum blonde and ash are just some of the on-trend shades you can find out of a bleach hair dye box.
When Should You Seek Professional Help?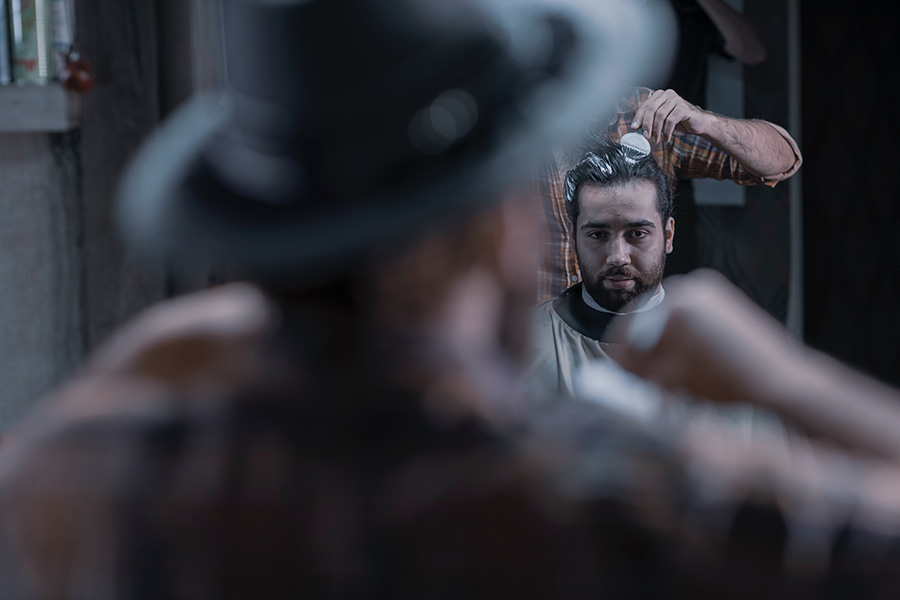 Unlike celebrities, ordinary folks like us don't have the luxury of a professional hairstylist on speed dial. But if the situation calls for it, you may have no choice but to seek help from the pros.
As each person has a different hair texture, thickness and colour, results from a hair bleach may vary. Should you transform your crowning glory on your own or leave it to the experts?
First of all, conduct an elasticity strand test to check whether your hair is healthy enough for a bleach. Take a strand of hair and tug at it gently. Hair that does not stretch or hair that breaks off easily has low elasticity. Frizzy, dry or brittle hair needs way more TLC. In this case, it's best to let the salon experts handle your bleach to prevent further hair damage.
If your hair bounces back into shape during the hair stretch test, that's good news! This means you have healthy hair that's suitable for a DIY hair dye job. Before bleaching your whole hair, we suggest doing a patch test first to check for any allergic reaction to dye ingredients.
Using Box Hair Dyes at Home: A Convenient Approach
Box hair dyes are a fuss-free, convenient option for those of us who prefer to colour our hair in the comforts of our own home. You can even sneak in an episode of your favourite Netflix series or enjoy some gaming time while waiting for the dye to set!
Another plus point? Their pocket-friendly prices. Costing only a fraction of the hefty price tag of a professional colouring job, using box hair dyes can save you a lot of money.
It's also extremely easy to bleach or dye your own hair at home. Box hair dye kits come with easy-to-mix solutions, the right tools and step-by-step instructions. As long as you follow all the instructions properly, you should be able to get good quality results.
With many off-the-shelf home colour alternatives, you're spoilt for choice. Hair bleach has a lightening effect as it removes your hair's original colour. So using a DIY hair bleach kit such as Gatsby's Hair Bleach box series will give you that lighter shade you crave.
If you want to colour your hair after bleaching it, consider using Gatsby's Natural Bleach and Color series which come in light, medium and dark tones. This time-saving 2-in-1 application can lighten and colour your hair at the same time. Whether it's natural brown hues, warm reddish shades, or trendy ash tones, you can achieve the colour you desire out of a single box!
Homemade DIY Hair Bleach: Step-by-Step Guide for Professional Results
For those of you who are more adventurous, there's another DIY way of bleaching your hair at home. Instead of using the ready-made box hair dye, this alternative involves assembling your own tools and mimicking the steps the salon pros take. This "professional" way of dyeing your hair requires greater skill though so you need to be super careful. It can be tricky to get a DIY bleach right and there's also a high chance you could mess it up especially if you have no experience. So … a note of caution, be aware of the risks and only proceed if you're comfortable.
Preparing Your Tools
Lightener
The lightener is a key ingredient of the bleach mixture. Usually in powder form, it causes hair to lighten by breaking the hair pigment apart.
Developer
The developer is a liquid base that opens up hair cuticles, allowing colour to penetrate into your hair strands. The concentration of developer is expressed in different units of volume which correlate to the oxidizing potential. From the mildest volume (10) which helps to deposit colour to the highest volume (4) which has the greatest lightening effect, you'll need to choose an appropriate volume that can achieve your desired hair tone.
Toner
The toner's function is to correct the tone of hair colour after bleaching. While it won't change the colour of your hair, it will help to adjust the shade of your lightened hair by neutralising lingering brassy tones or yellow hues. This will give your hair a more natural-looking finish.
Protection Gear
Bleaching your own hair at home can be a messy affair. Put on a gown to avoid stains on your clothes or wear old, unwanted clothes. Don't forget to wear a pair of gloves to protect your hands from the chemicals in your hair bleach concoction.
Hair Products
Going many shades lighter to blonde? Purple shampoo will even out the tone of your bleached hair by eliminating those orange or yellow hues and preventing brassiness. Conditioner is also a must to restore moisture, rebuild strength and give your hair the shine it needs. Don't forget the tinting brush – you'll need it to apply the hair dye.
Starting the Process
Mixing the Product
First, mix the lightener and developer evenly in a plastic bowl. While the recommended ratio is 1 part lighter to 2 parts developer (1:2), do check the instructions on the packaging.
Apply Evenly
Divide your hair into 4 sections if it's long enough. Using a tinting brush, apply the hair bleach mixture evenly and as quickly as possible onto your hair. Go from front to back systematically but leave the roots for last. As the roots are closest to your scalp, the body heat causes the hair to respond faster to the mixture.
Cover with a Cap and Let it Rest
After application, cover your hair with a shower cap to prevent the bleach from drying out. To figure out how long you need to wait, consider your current and desired hair shade. Set a timer so you know when it's time to wash your hair. Don't panic if you notice an orange tone forming – this normally occurs on darker hair.
Wash It Off
Extreme temperatures that are too hot or too cold can shock fragile hair. So use lukewarm water to rinse out your bleach. Wet your hair slightly with water, emulsify the bleach by mixing it with the water and then rub it all over your hair before rinsing it off. This will help you to achieve longer-lasting hair colour.
After you've bleached your hair, it may be possible to dye your hair to achieve the desired tone. But it's best to assess your hair condition first by doing the elasticity strand test. If your hair is prone to breakage, space it out before dyeing your hair.
Use Toner to Achieve Brightness
After you've washed off the bleach, let your hair air dry before applying the toner to slightly damp hair. Check that your hair colour is light enough or of a satisfactory tone. The toner will not lighten your hair colour but will help to balance out the yellow and brassy hues on bleached hair.
Maintaining Your Bleached Hair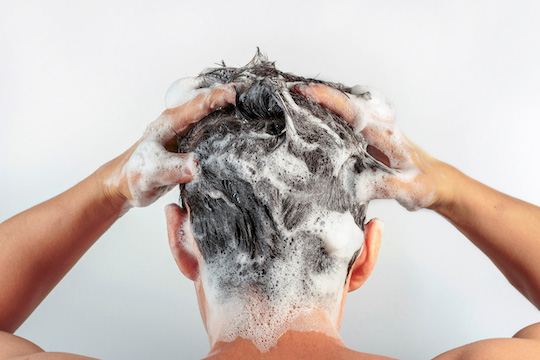 Avoid Washing Your Hair Ever So Often
Avoid washing your hair for the first 24 hours after bleaching to give your hair ample time to seal in the new colour. Use a gentle, colour care shampoo to maintain the colour and to keep your hair well-nourished. For ash hair tones, use a purple shampoo once a week or whenever your hair starts to get too yellow.
Use a Conditioner or Treatment
Keep your bleached hair in tip-top condition with the right hair products. A hair conditioner can restore shine and moisture to your hair while a leave-on treatment will help to close the hair cuticles properly and prevent brittleness.
Avoid Using Hot Water to Wash Your Hair
After bleaching, your hair tends to get dry and become vulnerable to heat. As this can weaken your hair and make it brittle, avoid using hot water to wash your hair. Cuticles can open up and get damaged easily when hair is wet so remember to dry your hair thoroughly after washing.
Bleached Hairstyles to Try Out
Bleached Undercut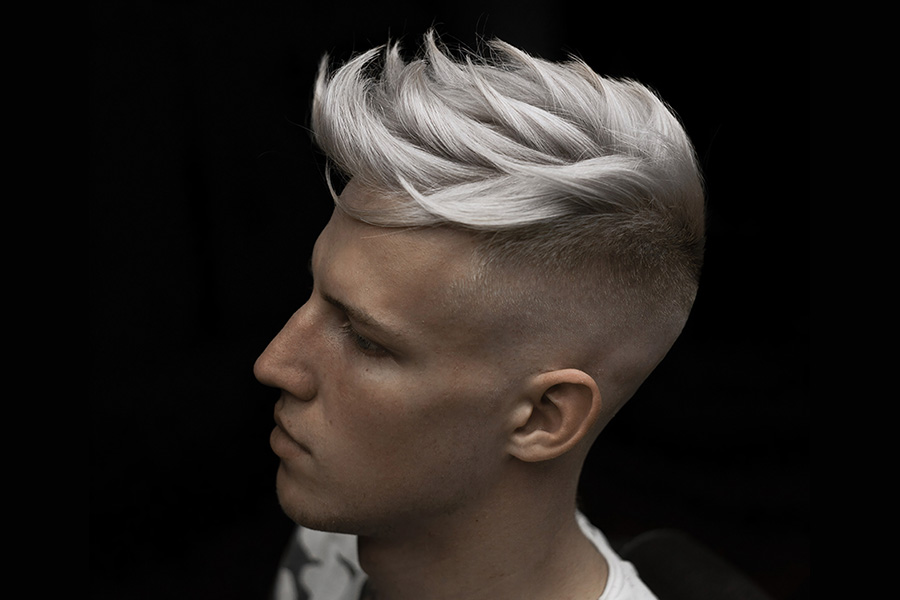 The undercut is easily one of the most popular hairstyles for men because it's so versatile. The buzzed sides go well with either long or short hair on top. Going a few shades lighter will you give you that edgy appeal. For inspiration, look no further than singers Zayn Malik, BTS' RM and Exo's Kai. To spice up your look, we recommend a bleached disconnected undercut or a bleached side-swept combover with the undercut.
Bleached Quiff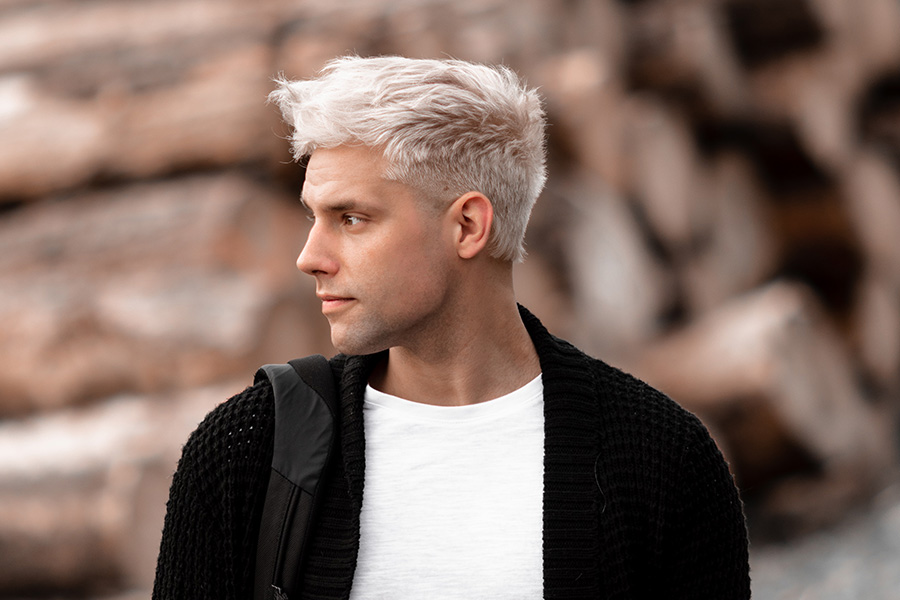 One of the most fashion-forward hairstyles for men, the quiff is the perfect showcase for bleached hair. Borrowing elements from the pompadour, mohawk and military flat top, the quiff is suitable for all hair textures. You can even go from preppy chic to punk with the quiff, depending on how you style it. For a rock-star appeal, pair your quiff with an eye-catching tone. Justin Bieber, Zac Effron and Joe Jonas have made a splash with a bleached quiff before, so why not you?
Bleached Crew Cut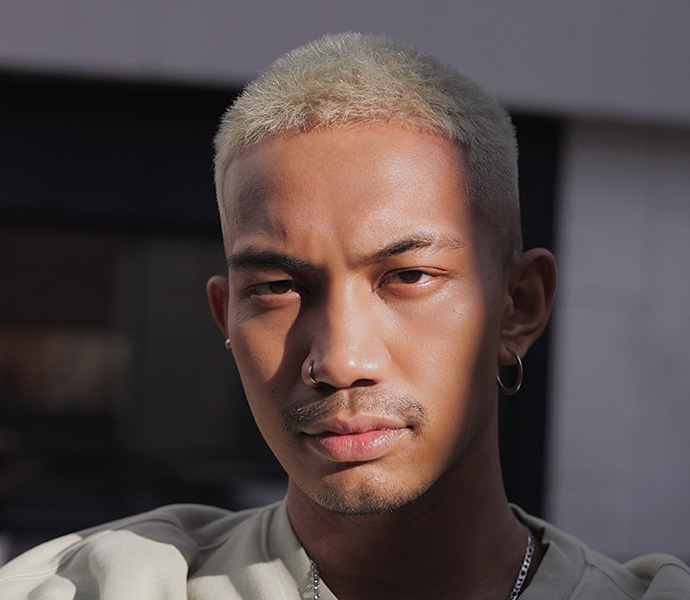 The crew cut is a minimalist, short men's hairstyle that's fuss-free and incredibly easy to maintain. You can change it up to suit to your individual style. If you're keen to debut a drool-worthy look, we highly recommend the bleached crew cut. From singers like Kanye West to sports celebs like David Beckham, radiate cool confidence by going full-throttle platinum blonde.
Conclusion
Ready to embark on your own home-colouring adventures? Whether you're grabbing your favourite off-the-shelf shades or putting together your own professional-inspired DIY hair bleach tool kit, follow instructions carefully to bleach your hair properly at home. One last tip - the key is to rocking your bleached hairstyle is to exude confidence.