15 Most Trendy Ash Grey Hairstyles for Men in 2022
Looking to try out the hair colour trends of 2022? Well, the cool tones of ash grey are officially ruling the day. In case you haven't heard, ash grey hair for men is totally in.
It's now super-trendy to sport an ash grey men's hairstyle. So if you're looking to debut a fresh look, a surefire way to do so is to not only rock a new hairstyle but to also make the colour switch to ash grey.
Trend of Ash Grey Hairstyles
Minimalist, monochrome hair colours are blowing up in 2022 as bright colours take a backseat. It's not surprising that our TikTok feeds are full of #ashgrey hair videos. From K-pop idols to Seoul street style, Korea has been ahead of the curve in embracing ashy tones. The rest of Asia is now catching up to this trend.
Options To Dye Your Hair
Go To The Salon
Ready to ditch your regular dark hues for a lighter tint? The fuss-free way of transitioning to an ash hair colour is to get it done by the pro colourists at the salon. While this could be costly, you know that your #hairtransformation will be in good hands.
DIY Hair Colour
If you're after something more affordable, why not try a DIY dye job from the comforts of your own home? Grab your favourite box of ash grey hair dye and follow the instructions carefully to achieve the best results.
To stay on trend, we recommend trying one of this season's hottest hues – smoky ash. The flattering and subtle cool tones of this deep blueish ash colour will give your hair a new dimension.
Best Ash Grey Hairstyles for Every Occasion
To show off your new shade, you need the right hairstyle. And we've curated a list of the best ash grey men's hairstyles just for you. Keep scrolling for the hair inspiration you need.
Casual Ash Grey Hairstyles
French Crop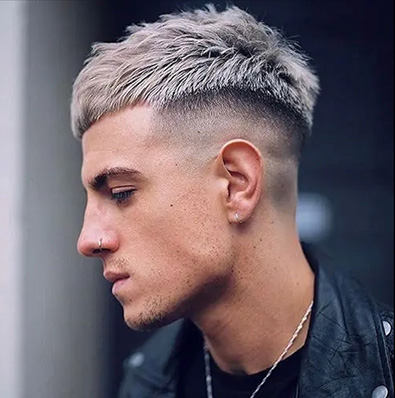 The minimalist French Crop is a great hairstyle for showing off a grey hair colour palette. Dye the top a smouldering ash grey and leave the short, clipped sides alone. You can get away with no styling for this low-maintenance haircut.
Mohawk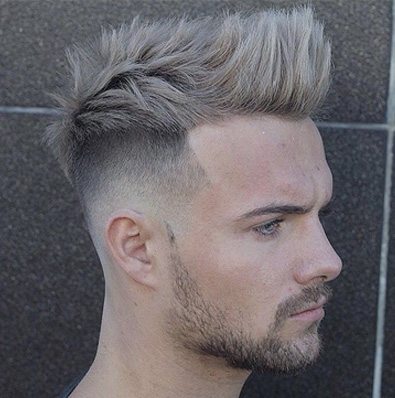 Going for an edgy vibe? The Mohawk is one bold style to try. The strong contrast between the textured spikes and ultra-short sides will make your ash grey hair stand out. Use a hair waxto sculpt your spikes.
Short Textured Quiff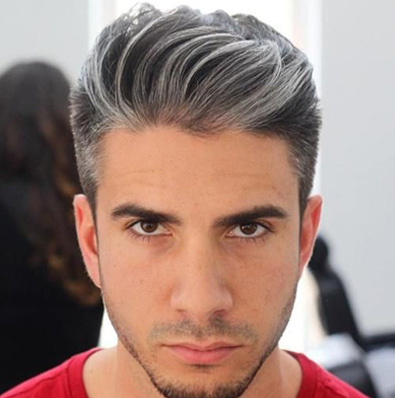 The Short Textured Quiff is a classic men's haircut that'll never go out of style. This relaxed hairstyle may look understated, but the brushed-up hair is an effortlessly cool way to subtly flaunt your ash grey locks. For this look, a hair wax that can create textured and lifted styles is the way to go.
Bowl Cut (Neat)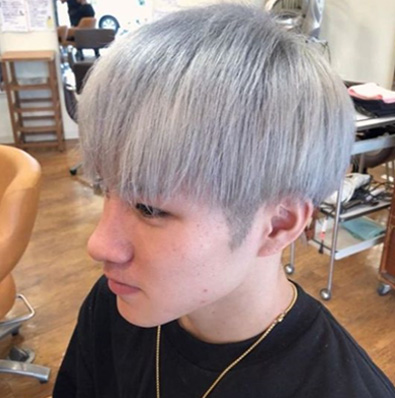 If you're confident enough, go for an all-round Neat Bowl Cut. This modern and funky hairstyle is the perfect canvas to show off your up-to-the minute ash grey strands and will truly set you apart from the crowd.
Bowl Cut With Textured Layers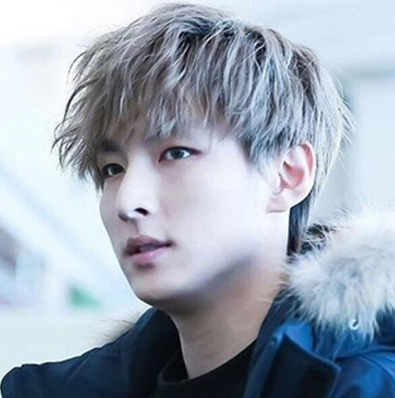 For those with thick hair, consider playing up your ashy tones with the Bowl Cut with Textured Layers. The textured fringe creates volume and draws attention to your monochrome palette. Keep the fringe slightly disheveled for a casual feel. Use hair wax to achieve this casual look.
Mid Length Layered Undercut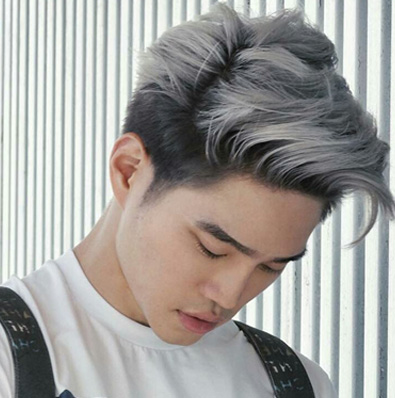 The Mid Length Layered Undercut is a versatile, laid-back hairstyle that suits both thick or thin hair types. The focus on the layers will accentuate your shades of grey. To nail this look, you can try this hair wax.
Side Part with Undercut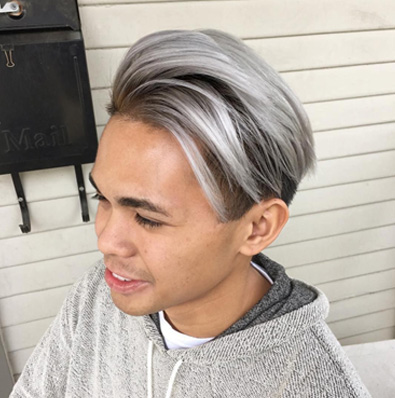 Another hairstyle to try if you're hopping on the ash hair colour trend is the Side Part with Undercut. Yes, ash grey + undercut hairstyles = a cool combo. Show off your new cool tones by sweeping your hair to the side.
Perm Top with Short Sides
Do you have naturally wavy hair? Then take your smoky shades to the next level with a Perm Top with Short Sides. Keep your curls tight and short for an attention-grabbing look. To achieve this style, try a sea salt wax or spray.
Side Swept Bangs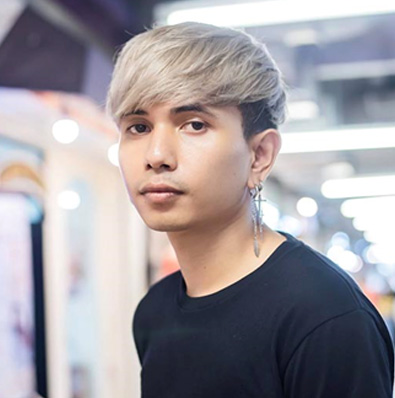 One way to give your ash grey hair more prominence is to sport Side Swept Bangs. This Korean-inspired look will show off frosty shades to maximum effect. You can easily pull off this look if you already have a longer fringe to begin with, while combining this with a suitable hair wax.
Formal Ash Grey Hairstyles
Comb Back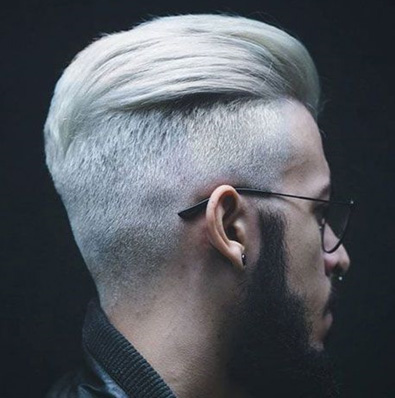 The Comb Back is an elegant hairstyle if you prefer something a little more formal. Your grey highlights will definitely take center stage here. Apply a pomade with a mattified texture if you want to give it a more casual look.
Pompadour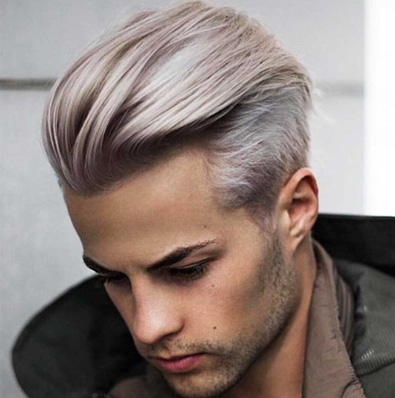 For a polished look, you can't go wrong with a gentleman's hairstyle such as the Pompadour. The high slick back coupled with neat and short sides will showcase your trendy ash hair colour to best effect. Use pomade with a glossy finish to achieve this style.
Short Neat Quiff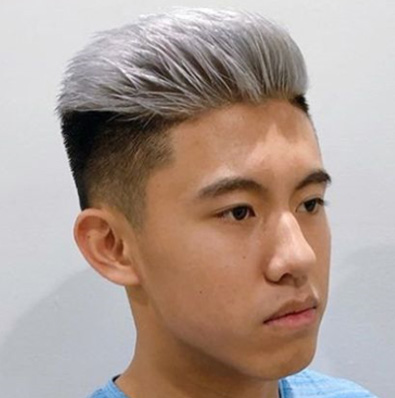 The Short Neat Quiff is the perfect hairstyle for guys who prefer a professional, formal-looking hairstyle. This cut is a classy, understated way of rocking your new ash hair colour. Apply a mattifying gel product to give your quiff the strong hold and volume it needs.
Side Part with Fade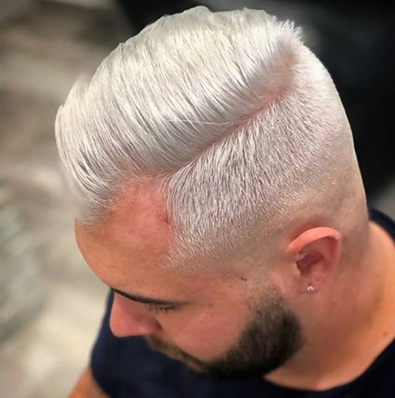 What do you get when you combine gorgeous ashy hues with a timeless haircut like the Side Part with Fade? An incredibly dapper and suave look! You can leave the fade uncoloured to bring attention to your side part's salt-and-peppery hair colour.
Side Swept with Hard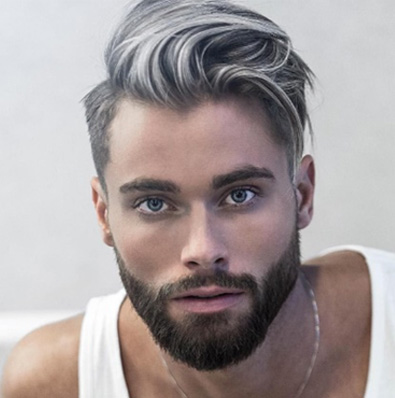 Shaped to perfection, the Side Swept with Hard Part is an old classic that suits all occasions. This is one haircut where you can wear your ash grey locks with pride. The hard parting keeps things looking neat while the side swept hair adds tonal depth to those ashy streaks. A pomade that can help with this is one that can give you a glossy finish, such as this one.
Conclusion
Ash grey is the breakout hair colour of the season. Not just for mature men, ash grey hair actually exudes a hip and youthful vibe these days. We've given you enough ash grey hair inspo ideas to get you started. Now go get that hair dye to achieve 2022's hottest hair colour trend.